If you've recently transitioned into full-time office work, you have most likely experienced all of its differences from college-life first-hand. Spending all-day, every day in one place can be a shock to the system for many former college students who are used to a life full of movement. Going from attending classes for a few hours per day, tops, to working a 9 to 5 can cause some unwanted stress. Since so many people spend the majority of the time at their desks, turning that space into a place you want to be spending so much time can help you become much more productive at work this year. It's not too late to resolve! Make 2018 your year for decreasing clutter and increasing efficiency at work in only five steps with our helpful tips from the infographic on How To Turn Your Workspace Into a Desk Sanctuary.
Step 1: Maximize Zen With Feng Shui
Only heard of feng shui being used on your favorite comedies? Well, it's a real thing! If you're a little skeptical of this first tip to organize your workspace and become more efficient in the office this year, just think about it this way- surrounding yourself with reminders of your friends, family, and accomplishments is a pretty surefire way to make you happy, right? Feng shui is the practice of arranging objects to attract positive energy, which will make you happy. And happier people are more productive. Placing a family photo next to your computer is an excellent example of one way to use feng shui at your desk to make your work more productive and enjoyable this year. Check out our infographic for more ways to attract positive energy at work.      
Step 2: Declutter
Would you believe us if we told you that the average office employee spends at least an hour "looking for things" every day? Astonishing, but much too easy to fall into when you think about it. All too often our office desk spaces full of clutter and disorganization. We bet most of the stuff on your desk is either unnecessary or could be saved in a folder on your computer- even a physical folder in a filing system would be better. Trust us, taking the time to tidy up your desk space and making sure it stays free of clutter will save you tons of time and energy in the future.
Step 3: Personalize Your Space
When you first think about it, adding personal touches to your desk space may seem nice but not important to your performance at work. In reality, personalization can help increase your productivity, socialization, and network among coworkers. Some level of socialization between you and your coworkers is significant in making you the happiest worker you can be. Companies provide a much different social environment than in college, which can make it a lot harder for recent college graduates to feel a part of a broader community. Along with making you feel more at home in your workspace, adding personal touches to your desk and showing your personality will cause others to be more inclined to get to know you. If you've gotten to know other people around you it will be a lot easier to feel comfortable at your desk and maybe even in asking for help in the future. These things will only make you more productive at work in 2018.
Step 4: Go Green
Usually when we say, "Go Green," we're referring to positive, Earth-friendly practices like recycling, turning off your car when you're not driving, etc. While all of those things are great habits to get into, that's not exactly what we're talking about when it comes to becoming more productive at work in 2018. To create a more enjoyable place for you to work this year, simply add a small plant to your desk feng shui. Doing so can increase your productivity and benefit you in many other ways. Check out our infographic for all of the benefits of desk plants.
Step 5: Lighten Up
Choosing the right lighting for your desk has much more of an effect on your stress levels than you would think. Try to minimize fluorescent lighting by using a personal desk lamp instead of overhead lighting and maximize natural lighting from windows if possible. The different types of lighting you are exposed to at work has a chemical effect on your body which can either help or hurt you when it comes to managing stress. Learn more about what your lighting options can do to your productivity at work and how visually inspiring yourself can help you focus more at work, here.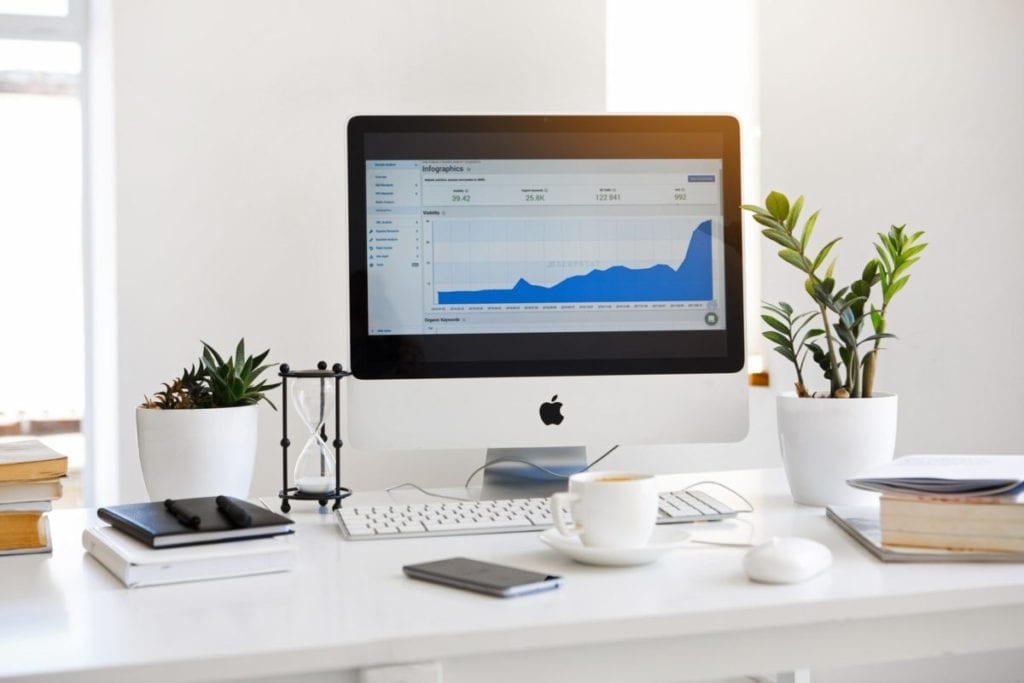 The big transition to a full-time office job can be really hard for a lot of us, but that does not mean there's nothing you can do about it. Make your life at work more productive, successful and ultimately a happier experience by turning your desk into your very own sanctuary by enlisting just a few of our tips.
Resources: