The holiday season is here and with that comes family. I live in Texas with my boyfriend Chris and although we are usually the ones who are traveling for the holidays, this year will be a little different. We will be staying put here in the 70-degree weather here in Texas, and the Drowns will be our holiday guests! We are so excited to have them come to visit. But with hosting a big crew begins preparation for holiday guests. To ensure preparation goes off without a hitch, Cottonelle, Kleenex, Scott and Viva products, available at Walmart via the Ibotta Coupon app, will help family and friends feel the togetherness that comes with this time of year.
1. Decorate Before Holiday Guests Arrive
Since Chris and I are usually traveling during the holidays, we never decorate. As a matter of fact, in the six years, we've been dating, this is our first year getting a Christmas Tree! If your holiday guests are visiting, it is nice to have some decor around to get everyone in the holiday spirit. We have a tree and some light holiday decor around the house, just enough to have some holiday cheer.
2. Paper Towels
If you are cooking for the holidays, you want to have these handy! When we run out of paper towels at home, it can be such an inconvenience. Cleaning up a spill here or there is usually included when you have some people over, and not having paper towels is usually when I start to panic. Stock up early. Don't get caught in this scenario! I use Viva® Paper Towels since they're durable, and can tackle the job when wet or dry. With the Ibotta app, get $1 off Viva 6-ct or larger.
3. Scented Candles
I do not enjoy air fresheners myself, but I LOVE scented candles. They make your house smell awesome, and honestly, I think having them around just makes the house looks better. This item doubles as both refreshing the home and decor for me. If you come in my house, you will find at least one candle in every room.
4. Toilet Paper
If you've ever been in the bathroom at home, and you've run out of toilet paper, you know the struggle. What's worst than that? Running out of toilet paper at someone else's' house. Now that you are rightfully mortified, stock up, and don't think twice about it. I enjoy Cottonelle® Clean Care and Scott® 1100. Scott lasts the longest in my house which I love, and you get so much in the 1100 pack. If you use the Ibotta app while shopping at Walmart you can expect to get $1 off Cottonelle 12-ct or larger and $1 off Scott 12-ct or larger.

5. Games
As far as I am concerned, if there are no games, it isn't a party. A few of my favorites to play in a group include Catchphrase, Apples to Apples and Scategories. If you are up for some serious play time, I LOVE Disney Scene it. It is a ton of fun. You just have to have a DVD player handy.
6. Facial Tissues
So fun fact, my boyfriend has a nickname for me due to the crazy amount of facial tissues I can use in a day. TQ, short for tissue queen. I have allergies year round, and even with meds, I use a ton. SO I know that when holiday guests are coming, I have to stock up more than usual to get enough in the house. For the holidays, I got the Kleenex® Perfect Fit Facial Tissue since they are the perfect mix of substance and style and fit in nicely with my holiday decor. Since I know I use a ton of tissue, I also stocked up with Kleenex® Lotion boxes so noses won't chap.

7. Snacks
If we're going to playing games and having fun, we have to be able to have some good snacks in the house. I make sure to stock up on crackers, candies and Chris bakes cookies. I usually make sure to have some chips and nuts on hand too, in case we get busy in between meals.
8. Hot Chocolate
Lastly, but certainly not least, having hot chocolate is a must. We make sure to stock up on eggnog as well to give us the holiday feel. We don't have snow in Texas, so we have to do a little extra to get into that holiday spirit.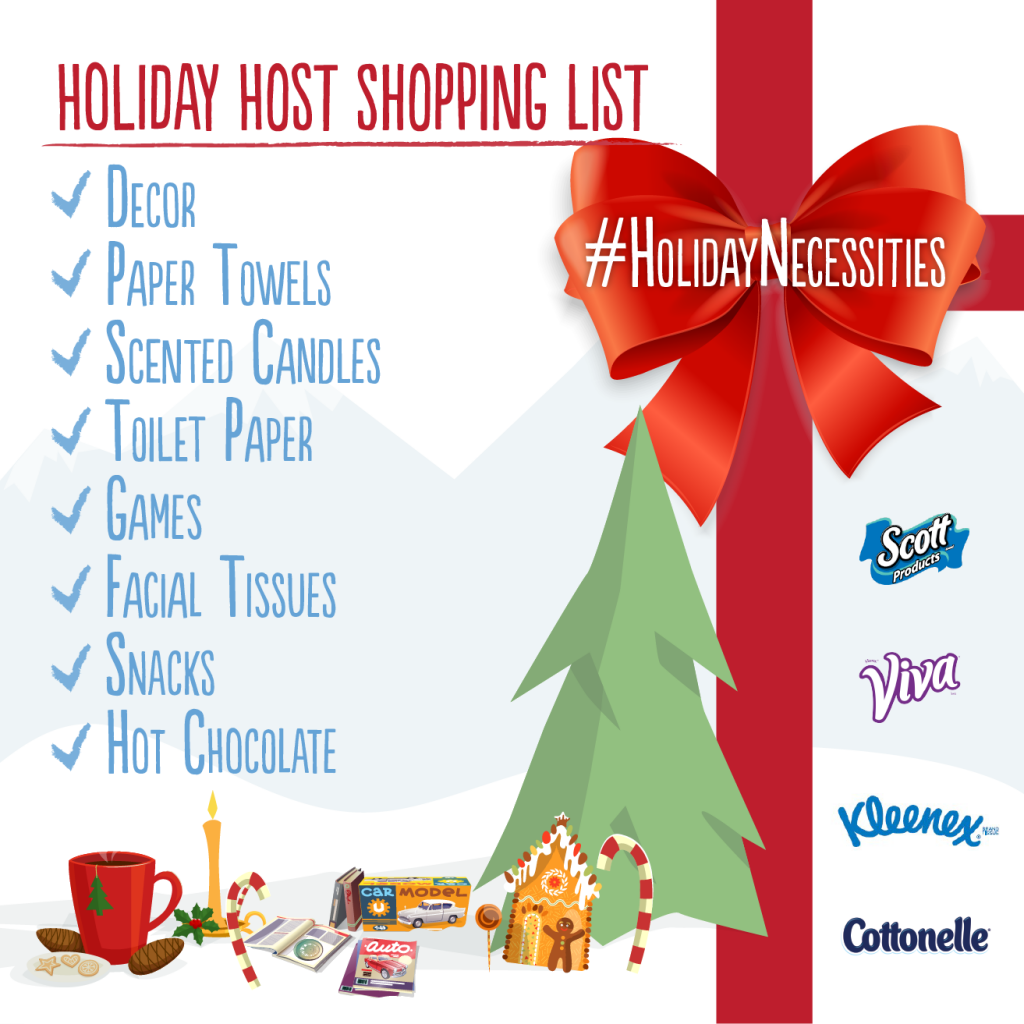 The holidays can be a busy time especially when you are hosting. But as long as you have your holiday checklist, you can do your one stop shopping at Walmart, and be done in one trip! I highly suggest you use the Ibotta app since it has saved me so much over the last year. If you are hosting the holidays this year, what is on your shopping list? Happy Holidays to you all!

I was selected for this opportunity as a member of Clever Girls and the content and opinions expressed here are all my own.