So, you've got a free night. Homework is complete, work is done for the day, the kids are in bed, and your best guy/girl is watching that movie you despise. What to do? Well, you could get to that pile of Thank You cards you've been putting off since your last birthday. Or, you can pick up a few fun reads and get completely submerged in a fantasy world where there are no piled up dishes and no HOA bugging you about that dead shrub in your front yard. Before you spend an inexcusable amount of time in Barnes & Noble or scouring Amazon only to walk away with that new zucchini slicer you're never going to use; take a look at some of our top picks for easy reading during Spring Break, or anytime you've got a window of time to yourself.
Most of us are familiar with Sophie Kinsella's Confessions of a Shopaholic, and while the series is incredibly fun to read, the author has several other titles under her belt that deserve a little more recognition. In The Undomestic Goddess, our unlikely heroine comes in the form of an up-and-coming legal star who finds herself in an even unlikelier situation when she trades the courtroom for the laundry room. Running away from her work problems comes almost automatically when she boards a train and finds herself in the countryside where the owners of a pseudo-mansion mistake her for the new housekeeper – a seemingly easy task, if it weren't for the fact that Samantha has absolutely no idea how to clean, cook, or do laundry. While the gorgeous gardener makes being there a little easier, let's not forget that Samantha left behind a life that will not very easily release its grip on her.
Vampires. Before you run away or scroll past to number 3 on our list, let me assure you that even I, a notorious anti-vampire enthusiast, thoroughly enjoyed this read. I'll be the first to admit very openly that I'm not the usual demographic for romance novels, and even less so for the vampire/werewolf/creature kind… I never thought them to be the "fun reads" type. However, when my college roommate insisted that I borrow one of her two hundred books, I reluctantly agreed – only because she knows my tastes well enough to realize when I will actually enjoy something outside of my comfort zone. A Quick Bite is one of the several books in the Argeneau family series, each book telling the story of a family member of this notoriously hilarious vampire squad. This one focuses on Lissianna, the daughter of the nosy, insistent, yet cunning Margarite, who comes home one night to discover that her mother had tied up her birthday present on her bed. Yes, tied up. Psychologist Greg Hewitt would make the perfect 30th birthday celebration, at least according to Margarite, but not for the purpose we're all likely thinking of. Instead, the matriarch believed that Dr. Greg Hewitt can help Lissianna get over her fear of the sight of blood. Yes, you read that right. Though, this wouldn't be a complete read without romance – so what happens when Lissianne falls head over heels for a human that should probably not get to know her family's gargantuan secret?  Forget the seven deadly sins of dating, Lissianna's relationship concerns span far greater than our mere mortal concerns with sharing too much information too soon.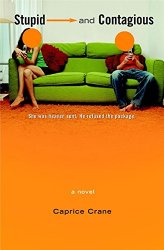 Let's be honest, we've all had a neighbor (or many) that we don't exactly get along with, and perhaps that's why Heaven and Brady's chaotic relationship is so relatable. Down-on-her-luck waitress Heaven is all of us trying to deal with a nonchalant, kind-of-misunderstood aspiring music producer neighbor who insists that Cinnamilk – the milk left over after a bowl of cinnamon cereal – is the next best thing to pitch to Starbucks. In Stupid and Contagious, Caprice Crane unfolds their stories in alternating chapters, switching between his and her views that give us an incredibly amusing look into the minds of both Heaven and Brady. While both could likely use a lesson or two in building better relationships, they refuse to be out-done by one another.  Their witty banter and the eventual cross-country trip to, you guessed it, pitch to Starbucks, is filled with pop culture references that incite chuckles, groans, and at times, full of laughter.  This is probably my epitome of a fun read.
It's Kelly Kapoor! Well, no, it's Mindy Kaling, but the actress gives us a fantastic and hilarious play-by-play of her journey up to and including one of our favorite The Office characters. It's a pseudo-memoir, pseudo-series of self-reflection essays that sets out to (successfully) paint a picture of life before The Office, complete with squeezing into a small New York City apartment with two roommates and an infinite number of cockroaches. This one will leave you just a little nostalgic for our favorite Kelly, inspired by some serious new life goals, and feeling a lot closer to Mindy, who will undoubtedly feel like one of your besties after the read — which makes this pick for a fun read more like your bestie's nightly chats.
Another memoir, this time from "The Bloggess" Jenny Lawson in a biting yet witty read about her upbringing in rural Texas and her eventual move to the city – which does nothing to cure her anxiety and at-times social awkwardness… something that more often than not results in some sort of scene (not-so-spoiler alert: the serial killer in her Halloween story was just a cat.) Jenny is easy to relate to, she keeps us laughing, and her piece for our fun reads list definitely makes her our bestie from afar.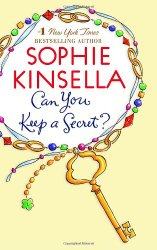 Never tell a stranger your secrets… you never know who they end up being. This is the second Sophie Kinsella book on our list because Emma Corrigan's story should serve as a hysterical lesson for all of us: secrets are secrets for a reason. Our heroine finds herself seated next to a handsome stranger on a plane, someone she decides to spill too many intimate details to – from her personal issues to way too many intimate details of her love life – only to find out that this man is, in fact, the CEO of her company. Will Jack Harper keep her secrets? Hint: of course not. He blabs it all over national television. So, what does Emma do next? That, I won't tell you.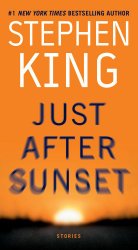 You didn't think I'd leave our horror-loving friends out, did you? Just After Sunset is a collection of Stephen King's bone-chilling short stories that include A Very Tight Place, The Things They Left Behind, and my personal favorite, Rest Stop… the tale of a routine stop at a highway rest area that turns sour very quickly. Tip: don't read these in the dark, alone… unless you like to jump at every noise and keep yourself tightly and securely wrapped in a blanket.  So perhaps this isn't a "fun read" for all of us, but the short story component of this book is definitely successful with those who enjoy a good scare now and then.
This fun short story collection features pieces by Meg Cabot, Jen Weiner, and many more talented authors. It's perfect for a pool-side read, or when you have an hour in-between obligatory tasks when you need a minute to escape. A favorite is "Cat Lady" by Alisa Valdes-Rodriguez, a tale of a woman attempting to accept her inner, well, cat lady – who stumbles right into love very, very unexpectedly. With 21 fun read stories, there's bound to be a few favorites in it for all of us.
**This article contains affiliate links, and we will be compensated for any purchase made by clicking on them. Thank you for supporting Miss Millennia Magazine!**