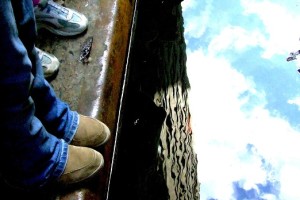 According to a Northwestern University study, the top three regrets people have has to do with romance, family, and education. They have these regrets because they refuse to get out of their comfort zones – they don't ask that person out, they won't apologize to their siblings, or they decide against changing their lifestyles and going back to school. To prevent yourself from having regrets, take a look at these seven ways to get out of your comfort zone.
1. Keep an Open Mind
Thomas Jefferson once said: "He who knows nothing is closer to the truth than he whose mind is filled with falsehoods and errors." Keeping an open mind is the first step to getting out of your comfort zone. You're entitled to your beliefs, but realize that other people are as well. Talk to people that have different religions, or study a culture that's vastly different than your own to learn about different ways of life.
2. Take Small Steps
You aren't going to go from staying home and watching television one day to exploring the Amazon Rainforest the next. Start out small. First, this might just be going to a new restaurant, or if you're totally ingrained in your habits, sitting at a different table than you normally do. Attend a communications class and perform at a small poetry recital, before becoming a public speaker and going into politics. If you eventually want to go whitewater rafting, learn to swim in the community pool first, then try kayaking on the lake, and after that, try a slow river
3. Face Your Fears
Taking small steps will help you get ready to conquer your fears, but at the end of the day, you just have to take the plunge. Fear is what keeps you in your comfort zone, so get rid of any phobias you might have. For instance, if you're scared of heights, go sky diving. It will seem scary, and it might still seem scary even after you do it, but you need to show yourself that fear is no reason to limit yourself. Don't think about it too much – just do it! Find a business that offers sky diving and take a leap of faith.
4. Talk to People
It might feel awkward at first, but you'll be surprised at how much you learn from talking to random people. Start a conversation with the lady in front of you at the supermarket. Joke around with the guy sitting across from you on the bus. Talk about the meaning of life with the janitor at the office. Learning about how others live will help you be more compassionate, have more self-esteem, and lead a happier life.
5. Learn Doing Things Alone
Having friends is great, but deciding not to go somewhere because a friend isn't available to go with you isn't beneficial at all. Whether it's going to the mall or taking a vacation abroad, do it because it's something you're truly interested in and want to experience. When you're with friends all the time, you need to compromise and take their needs and wants into account, and while compromising with friends is a valuable life skill, you need some time to focus completely on yourself.
6. Learn Everything
Education can be expensive, but once you look at all of your options, you might be able to afford going back to school. Look into how much financial aid you qualify for, before dismissing the idea. If you can't or don't want to go back to school for some reason, that doesn't mean you can't learn anything. With a library and an internet connection, you can learn pretty much anything for free or for a very low cost. A study done by Richard Easterlin showed that higher eduction, not income, is likely to be correlated with happiness.
7. Be Happy
No one feels like trying anything new or doing anything strange, when they don't feel good about themselves, so make yourself a priority. Purposely make time to watch a little television, eat a little chocolate, and drink a little beer. The freedom you'll get from knowing that it's okay not to be perfect will liberate you more than anything. Getting out of your comfort zone means being imperfect. It means being messy. It means making mistakes. Realize that you aren't perfect, then learn to be okay with it.
Getting out of your comfort zone is going to be uncomfortable at first, but it's definitely worth it. By using these seven tips, you'll find yourself doing things that you never thought you'd accomplish. You'll also be able to live a life full of happiness and without regret.