Natural wonders can often amaze us with the shapes they take. Our imaginations run wild at how strange or otherworldly they look. How did they happen? What could forces have caused them to be formed in that exact way?
These were questions which also troubled all the people that came before us, and some of them came up with really fantastic explanations for the magnificent sights around them. With this great infographic, hometogo.com have gathered together some of the most awesome origin stories about natural wonders from around the world!
1. The Fairy Chimneys of Cappadocia, Turkey
The central Turkish region of Cappadocia is one steeped in history, having been ruled by many of the greatest empires on earth. It is characterized by wonderful mushroom shaped towers which rise to heights of 130 feet, looking they could only have been fashioned by supernatural beings.
This is exactly what the locals thought, and so they created a legend of magical underground-dwelling fairies who had built them. To see these massive slim towers and their black caps rise out of the countryside and marvel as they change color in the sun, no-one would doubt that something magical had been involved!
2. The Land of the Dragon's Blood Tree, Socotra, Yemen
From fairies to dragons, our ancestors' mythological explanations for natural wonders knew no bounds. So it is on Socotra, a remote island in the Arabian Sea, which happens to be a Noah's Ark for tree species that once covered Europe and Africa. 307 of the island's 825 plant species are found nowhere else on earth and among them is the fabulous Dragon's Blood Tree (Dracaena cinnabari).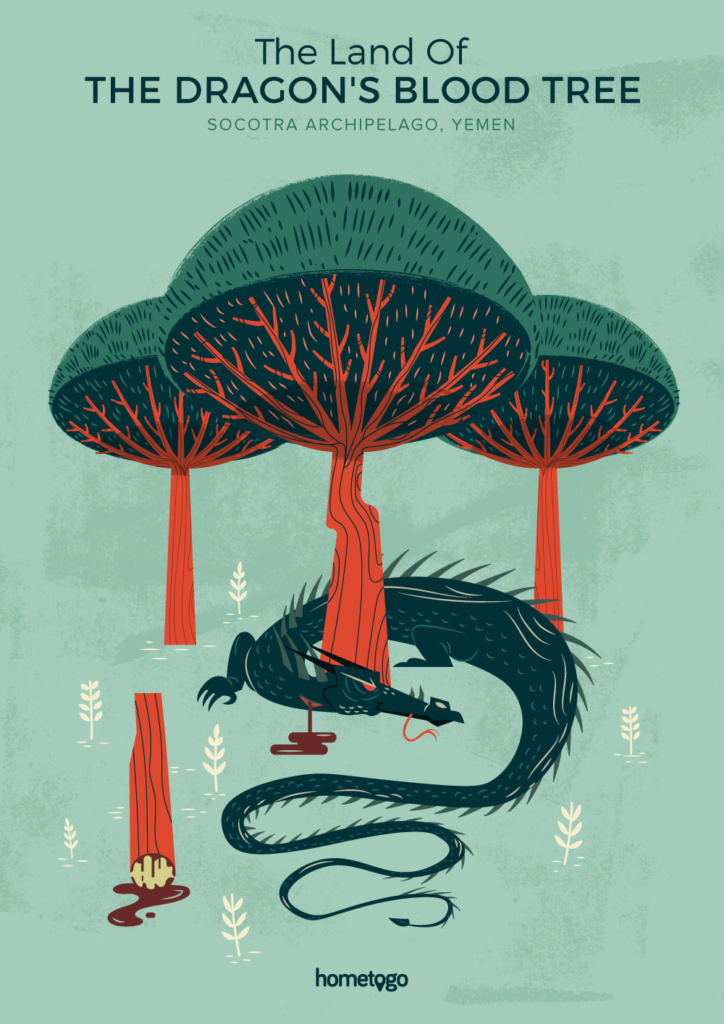 The tree is so named as it was believed the first one grew from the blood of a dragon which had been mortally wounded fighting an elephant. This would seem to make sense as its sap is a deep red which forms valuable tear-drop shapes. This sap has been used for thousands of years for its medicinal properties, its significance for religious ceremonies and even as wax for violins in Medieval Europe!
3. The Giant's Causeway, Northern Ireland
Ireland is a land of many tales of exceptional heroes and strange mystical creatures. They go a long way to explain many of the landscape's features, and none is more famous than the UNESCO-listed Giant's Causeway in Northern Ireland.
The formation is made up of tens of thousands of precisely 6-sided pillars, which stretches from the coast out into the sea and it's logical to suspect it to be the work of an ancient engineer. And that's what the legend tells us! The awesomely-named Finn McCool was getting some shade from another giant, Baldonner, who lived across the sea in Scotland. He created the pillars from pieces of the Irish coast and slotted them side-by-side to build a bridge so they could meet up and sort out their differences.
4. The Sleeping Ute, Colorado
It was another huge warrior who inspired the Mountain Ute tribe in Colorado to name the great mountain which lay on their ancestral lands. As the origin story goes, a great god fought with some bad creatures called the "Evil Ones." He won but was severely wounded and so lay down to rest.
He must have been quite a size as the highest peak (the elbow of his folded arms) is over 9,000 foot high. Not only that, but the water which flowed from his wounds created the rivers and lakes, and rain clouds came from his pockets.
5. The Shelter of the Gods (Asbyrgi Canyon), Iceland
It's not only giants in human form that were believed to have made their mark on our environment. Think of a huge stallion, the steed of the great god Odin, with a (male) god as its mother, which was capable of riding to the Norse underworld of Hel and back unscathed. Oh, and did I mention he had eight legs? Well, that's Sleipnir, the greatest horse in Norse mythology.
Considering his size and his many legs, it's not surprising that when his feet touched the earth, they left quite a mark. Which is how the Viking settlers on Iceland explained the giant, horse-shoe shaped crater of the Asbyrgi Canyon. At three miles wide and with cliffs 300-foot-high, the Shelter of the Gods certainly looks like something that could only have been created with divine horsey intervention.
6. The Moeraki Boulders, New Zealand
Near the fishing village of Moeraki, on New Zealand's South Island, there's a beach covered in hundreds of solid large, near-perfectly rounded objects. Dragon eggs? Huge pearls? An alien's marble set? Well, they could be those things, but for the local Maori people the creation legend comes from a sea disaster long ago.
Supposedly the Kähui Tipua people set off to a mythical island to gather sweet potatoes to bring back and cultivate on their land. However, a significant storm wrecked their canoe, and the people were drowned. The gourds and baskets they had used to carry supplies were washed ashore and became stone, thus remaining as a permanent reminder of the great disaster.
7. The Giant's Tears of Salar de Uyuni, Bolivia
Another great tale of sorrow is the origin story behind Salar de Uyuni in Bolivia, the largest salt flats in the world. Three great giants, who now take the form of the massive surrounding mountains, were caught up in a cruel love triangle. As ever with these situations, one party gets hurt more than the others.
So it was for Tunupa, whose husband Kusku left her for Kusina. Overcome with sadness and torment; poor Tunupa cried an almighty amount of tears, enough to create a giant lake. When this dried, the salt that was left behind covered an area of more than 4,000 square miles.
Among the giants, fairies, sorrow, and supernatural lies a desire from the people who came before us to explain the wonders around them. Though all of these formations may have rational and scientific explanations now, it's always fun to indulge our creativity and let our imaginations make up a story to explain something weird!