If you haven't heard by now, there's a little site call Shipyourenemiesglitter.com, where (you guessed it) you can pay someone to send an envelope of glitter to people you hate (or people you love). The site launched on January 12th, 2015 and has already seen close to three million visitors in that time frame. Why? Readers, what the internet has shown us is that people love to mess around with their peers. So, here are some services you can use to prank the people in your life.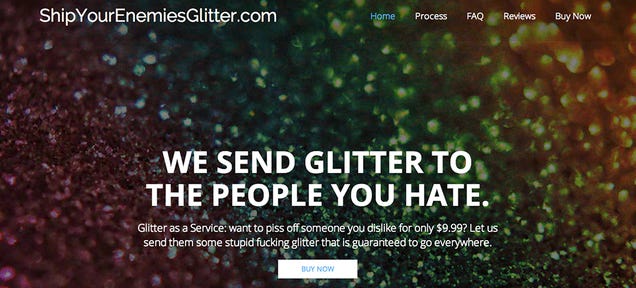 This one is kind of a no-brainer, because as the website points out, "that shit goes everywhere." If the first week of orders (which shut down the entire site) is anything to go by, this service is going to be well used by friends and enemies alike.
The name says it all. This site can be used to ship quarts or gallons of various feces to anyone in your life. People you can send this to include "an ex husband/wife, a mechanic that has screwed you over, or to your mean boss." There probably aren't too many people who have gallons of poop hanging around, so this could also make a great "gift" for someone who has everything!
3. Cat Facts App
This Android app originally started as a prank on Reddit, but quickly gain popularity across the internet because, well, cats. The internet loves cats and it loves harassing people, and now you can do both by sending random cat facts to any mobile device with this app, up to dozens a day. This is only available to Android users currently, so Apple users will just have to live without it until someone realizes how cute this idea is and develops and app for the iPhone.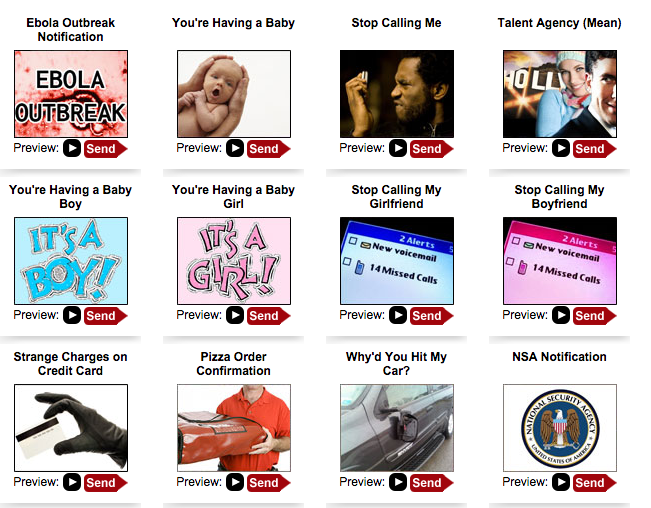 This site is another one where you can prank people using their phone. You can send customized phone calls to someone with various messages, including someone saying to stop seeing their "boyfriend/girlfriend" or claiming you hit their car today. People will likely figure out the hoax quickly, but it's a good way to cause a quick initial panic in someone.
5. Cards Against Humanity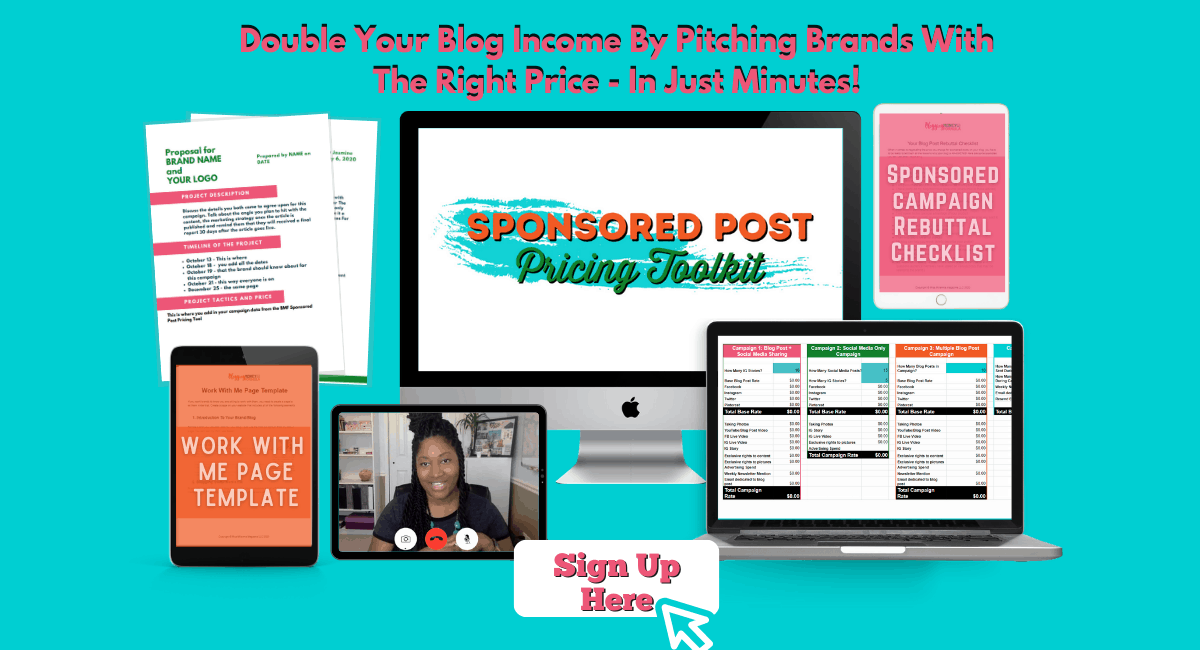 This one takes a little more imagination. Cards Against Humanity is mostly just a site to buy what is arguably the best card game in existence. However, a few times a year (usually around the holidays). They offer some rare additional items that you can buy and ship to other people.
On Black Friday of 2014, they ran a special to buy boxes of "bullshit" which was actually just boxes of bull shit. They sold almost 300,000 boxes and spent the following weeks trying to reassure people that what they actually bought was indeed poop.
Additionally, they had a holiday bullshit sale where they let you preorder 15 non-identified items. The items ended up being things such as random cards, moderately offensive comics, a square foot of an island off of Maine, and a pamphlet on customer service.
Now, when ordered for yourself, these items just seem kind of odd, but when you order for others, these items become weird and irritating. And Cards Against Humanity isn't big on canceling orders, for anyone. 
So, you can order random and confusing gifts for your friends and enemies. And they won't be able to cancel them, no matter what. The sales only happen during the holidays, but you can buy their card game here anytime.
If you've been trying to find a way to prank people in your life. Then you can never go wrong with looking through the internet. You can find a service to do pretty much anything for you. Literally, they will send poop for you.
Resources
Cat Facts App Spread From Reddit 
Sending Glitter to Your Friends?