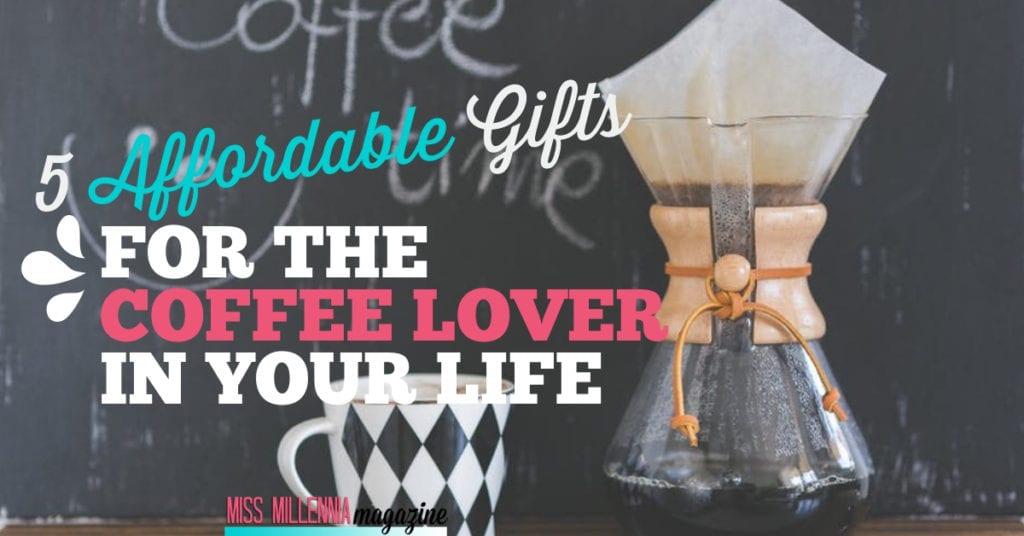 Everyone has that person in their life who seems to love their coffee just a little bit more than the rest of us. You know who I am talking about. They NEED their Starbucks fix, do not talk to you until after their first cup, and have several cups a day.
Luckily for you, this means that if you are buying them a gift whether it be for the holidays, their birthday or even a housewarming gift, there are many gift options out there for any coffee lover! And the best part is that they do not have to cost you an arm and a leg.
**This article contains affiliate links, and we will be compensated for any purchase made by clicking on them. Thank you for supporting Miss Millennia Magazine!**
If you are looking for gift ideas for the coffee lover, you have come to the right place. Here I list out a few gifts that are not only unique but all under $50! Any item on this list is sure to be one the coffee lover in your life will appreciate. Also, If you are a true coffee lover surely you would be interested in making the perfect cup of coffee. Kimbo, have barista classes so they can take you through this.
[clickToTweet tweet="Here I list out a few gifts that are not only unique but all under $50! @missmillmag" quote="Here I list out a few gifts that are not only unique but all under $50!"]
A Milk Frother
For anyone who has ever tried to make a latte or Cafe Ole' at home without a milk frother you know the struggle. I typically heat my milk up in the microwave and watch like a hawk to make sure the milk does not explode all over the place. Yes, I do this every day, but having frothy milk in your coffee is a game changer!
Having a milk frother means you get that awesome creamy topping on your coffee, similar to what you would get in a coffee shop but at home. This is every coffee lover's ultimate dream, so why not make life a little easier on them? If the coffee lover you know now likes the fancy stuff, they will be delighted to get one of these babies from you.
A Cute Espresso Coffee Mug Set
Even if they are not an espresso drinker, these espresso cups are awesome since they serve as the cutest kitchen decor. You can sit them right on the counter next to the rest of their coffee accessories like a french press, Keurig, or other the coffee creating devices they may own. And if they already own an espresso machine, even more reason to get them these cute cups.
They can range in price depending on their style, but keep in mind that there are so many options out there. Regardless of the ones you choose, I think they serve as a great gift idea. Below are a couple of examples that are less than $50.
A Coffee Grinder
If the person you have in mind owns a percolator or a french press at home, they would appreciate a coffee grinder. Even if they are using an electric coffee maker, they will taste the difference using fresh ground coffee vs., the pre-ground stuff at the store. The coffee should be stronger more flavorful and tasty!
Coffee grinders are not very expensive, and they come in a range from manual ones to electric ones. I have an electric one listed below, but they both work pretty well!
A Prescription coffee mug
This prescription coffee mug is adorable because for those who feel like they need coffee in the morning to function will LOVE this. It's cute, funny and I promise will be their favorite mug going forward. It is ceramic although it is sort of an eye trip initially, this cup should be sturdy and last a while as long as it is not dropped.
There are many other unique coffee mug ideas out there, so be sure to explore if you want to get them a good one that fits their personality.
The El Gato Malo French Press
A french press is a great way to make quality coffee at home and having a stainless steel press is an awesome way to keep it warm and prevent a glass press from being broken. French press coffee is typically stronger since the coffee grounds mingle with the water until you press down the nozzle on top filtering the grounds from the water. If they already have the coffee grinder, they will LOVE getting a french press as a gift.
The best part about a french press is that it means having coffee wherever since you do not need electricity to make coffee with it. Many people enjoy taking the french press with them when they go camping or even when traveling for leisure. Since it is stainless steel you don;t have to worry about it getting broken along the way.
If your coffee lover friend happens to be a cat lover too, this brand of french press is right up their alley (El Gato Malo means the Bad Cat in Spanish.) The El Gato Malo French press retails for $37.99.
[clickToTweet tweet="The best part about a french press is you don't need electricity to make coffee. @elgatomalopress" quote="The best part about a french press is that you do not need electricity to make coffee with it."]
Regardless of the coffee gift, you decide to get your buddy; the fact that their love for coffee has not gone unnoticed will be appreciated at the very least. You have many options to choose from, and they were all under $50. Take your pick! Cheers to all of the avid coffee drinkers out there. What are some other gift ideas you have for coffee lovers? I would love to hear more in the comments!
[clickToTweet tweet="The fact that your friend's love for coffee has not gone unnoticed will be appreciated. @missmillmag" quote="The fact that your friend's love for coffee has not gone unnoticed will be appreciated."]
**This article contains affiliate links, and we will be compensated for any purchase made by clicking on them. Thank you for supporting Miss Millennia Magazine!**
Sources:
Bormioli Rocco Oslo Espresso Coffe Mug Set