Many Generation Y women are just starting out on their own. They're trying to budget for rent and groceries, while also trying to pay off student loans. While Generation Y women may have open hearts and the will to give, they may not have the means to do so.
Here are some tips on how to save a little of your hard earned money to help someone else. These tips are meant to be a perfect balance between creating enough charity funding to help someone in need and not creating a hole in your pocket that will put you behind in your own savings plans.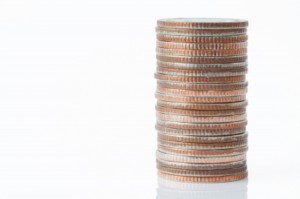 The Coin Collector
I despise having spare change in my wallet. My purse is always way heavier than it needs to be, and I never remember to use the nickels and dimes anyway. A great way to put those pennies to good use is to start a coin jar. At the end of each week, put any spare change from your bag or your wallet into the jar, maybe leaving a few quarters to the side for parking meters. While this may not look like a lot of money at first, it can really add up fast. I once did this for about a year, and I collected $200, which I donated to Relay for Life. (Check out my previous article here to read more about what Relay for Life is!) I didn't miss that money at all, and it felt great knowing that it went to such a great cause instead of living in the black hole that I call my purse.
The Matching Program
Think of something that you purchase about once a week. Do you reward yourself on Fridays with fro-yo? Do you snag a new lipgloss on your weekly drugstore run? Every time you buy one of these superfluous things, put half of what you spent aside to give to a charity. If the item is small, try doing the whole amount. The point is to match your charity fund to an item that you want, but don't need. This way every time you treat yourself, you're also helping someone in need. Plus, this will make you an honest spender. If you don't have enough to buy a small fro-yo and put half of what you paid aside, then maybe you need to skip the fro-yo this week anyway to make sure all of your necessities are covered.
The Extra Gift Card 
People get gift cards on two occasions, when the person giving the gift forgot until the last second, or when the giver legitimately wanted you to have the opportunity to buy your own gift. Think of these gift cards as extra cash, and think of buying your own gift as a gift to charity. This is money that you weren't expecting to receive anyway, so it shouldn't set you back on your personal financial goals. Rather than spending it just to spend it, use it to make a charitable donation. If it's for a clothing store, buy some great outfits to donate instead of just giving away your ratty old jeans. If it's for a restaurant, ask your local food kitchen if you can use it to provide some of their meals one day. Some charities will even take gift cards directly as contributions. I promise that giving your birthday gift to someone in need will feel way better than buying a shirt that is just going to sit in your closet.
How do you find the cash to make monetary contributions to charity? Have you tried any of these tips before?