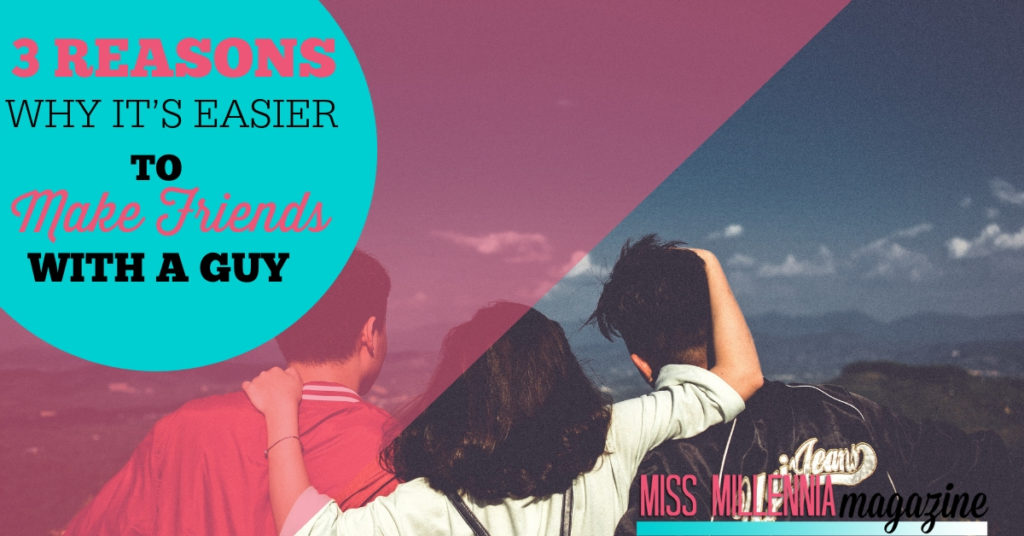 Let's be honest here. We love our female friends, but sometimes our relationships are so complicated. Making friends with other women can come as naturally as it did on the playground all those years ago, when two people instantly click, or they can be the fruit of actual labor, a friendship that blossomed because you worked at it. Anne of Green Gables desired a "bosom friend" – some millennials have found this friendship in men.
Relationships with guys are by no means less complicated – they're just different. As millennials, we're finding our definitions of friendships and relationships less black and white than our parents' generation. Guys and girls are hanging out more one-on-one without that sexual tension – for the most part – we're finding the perfect roommate in the opposite sex, and we're actually getting to know our future partner or spouse much better because we were friends first. So why do we gravitate towards friendships with men over our sisters in womanhood? Here are 3 reasons why it's easier to make friends with a guy over a girl.
Reason #1 – Sometimes girls can be catty
Girl friendships are soo great. If they're real, they last through school, career moves, new relationships, and family growth. You know those old women sitting down at a restaurant for literally hours while they giggle about the past and the pleasures of being so wise. They've been friends for years and they've grown up together. But sometimes girlfriends can be very catty to one another, and they're selfish in what they want. Some girls figure it's a waste of time to be friends with another girl who they can't trust or rely on.
Guys have entirely different dimensions in their friendships, and it always looks so much easier to be a guy and not have to worry about him stealing your boyfriend. Guy friendships are by no means uncomplicated, but they seem happily straightforward.
Reason #2 – You find it easier to relate to the guys
Boys are fun. Their minds work differently than ours (thank you, psychology 101). It's fascinating and also helpful to have someone on your team who will approach a problem from a different angle than you would. Men and women find compatibility in liking the same things, and when you find someone who hates the Yankees with as much ferocity as you do, you're bound to like them. Some women find other women to be complete mysteries as far as their passions and pursuits. Being one of the guys, you find a home with people who share similar interests, and you feel more comfortable around them.
Reason #3 – Flirting can be the foundation of friendship
The age old question still stands: Can men and women be friends? We've heard convincing arguments for both sides, and while men and women approach relationships with each other for different reasons, innocent friendships are possible. However, these may come about after that annoying phase of I think he likes me, does she like me like that, I don't like him, what's the point of all this flirting?
Men and woman are awesome at flirting. And it's fun. We like to have an office husband, a school boyfriend, etc. with whom we can laugh and enjoy spending time. The "long story," this is how we became a sort of deal, starts out this way, the innocent joking around, like Jim and Pam. Flirting leads to legitimate conversations about life, which naturally inspires friendship.
Keep in mind that this doesn't reflect the nature of all guy-girl relationships or even girl-girl friendships. Every friendship is different, but the wealth of experience and insight we have here at Miss Millennia makes us confident that we're not the only ones out there thinking Why am I better at making friends with guys? No, it's not wrong. Or even weird. Sometimes the friendships you make with guys will turn out to be the best you ever had.