Check out Festive Appetizers

by Jasmine Watts at Foodie.com
It's that special time of year again…get excited about the holidays! While there are plenty of DIY projects to get excited about this time of year, you cannot help but get excited about the holiday recipes too! If you are having a holiday bash, it may be worth it to try out one or all of these delicious holiday appetizers. Bon appetite!
This holiday appetizer is a sweet and fluffy dip that goes perfect with Graham crackers and apples. A yummy flavor and color. Your friends will appreciate this festive treat.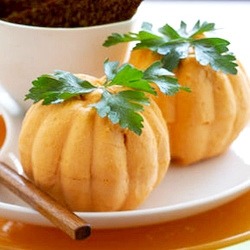 This treat is delicious and looks good in a fall affair. These pumpkin-shaped appetizers are cute enough to serve as decor and deliciousness.
This appetizers is like a panini without the middle. This grilled garlic bread looks phenomenal and tastes even better.
The beauty of this appetizer is that it only involves four simple ingredients. Delicious and easy.
This is not your momma's brussel sprouts. These are breaded with Panko and deep fried. This works as a great 1st course salad with its array of flavors and textures.
If you are a vegan or simply like raw food, this appetizer is for you. It is raw, vegan, and gluten-free. A yummy treat that's filled with flavor.
This snack doubles as an after dinner treat! These baked bries are filled with a fruit jam and baked to perfection.
A yummy soft pretzel recipe with a festive twist. Cool to look at and delicious to eat.
Use this vegan cheese recipe to create a festive cheese ball for a platter of crackers or spread it on bread slices to create a base for your favorite tapenade. 
This colorful holiday appetizer is packed with flavor. Enjoy with any main dish.
This wreath is almost too beautiful to eat. A great center piece for the holidays.
A little different from the crostini appetizer above, but a great treat if you want to pack a little more oomph in your dish.
This is a sponsored opportunity with Foodie.com