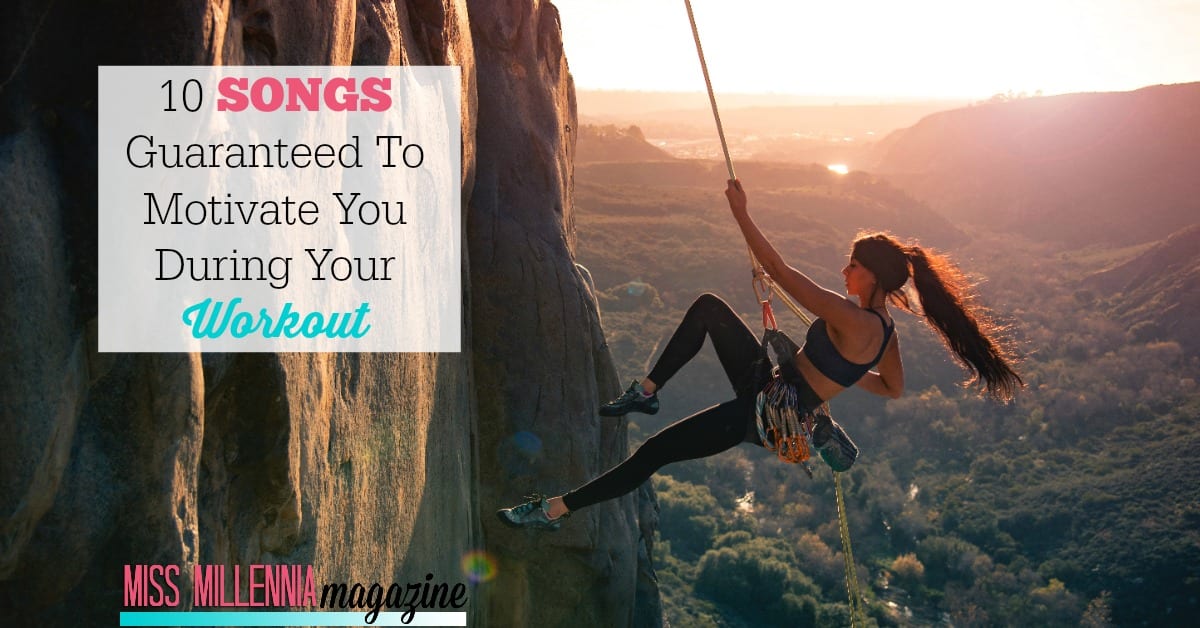 Whether you're tired, sick, or just feeling lazy, finding the motivation to hit the gym can be hard some days. But the right music can put some real pep in your step! I love listening to peppy dance hits to boost my energy and make me forget I'm sweating my butt off in the gym. Put on this playlist full of fun songs to motivate you during your workout and you'll forget all about being tired.
**This article contains affiliate links, and we will be compensated for any purchase made by clicking on them. Thank you for supporting Miss Millennia Magazine!**
1. "Gonna Make You Sweat (Everybody Dance Now)" by C+C Music Factory
When you're exercising, you might as well start with a song that promises to literally make you sweat. This 90s classic is sure to motivate you during your workout and through the rest of the day. It is of course designed to encourage you to bust a move but the energetic beat is perfect for any workout. Hit the running track or treadmill and you'll fly through the miles with this tune playing!
2. "Don't Stop Til You Get Enough" by Michael Jackson
Some days you go into your workout feeling hungry for success and others you just want to do the bare minimum and get out. If you're experiencing the second kind of day, turn to this song by the King of Pop for help. The chorus tells you to "Keep on with the force don't stop/Don't stop til you get enough." From lifting slightly more weight to running instead of walking for another minute, this track is ideal for getting you to push yourself to the absolute limit at the gym.
3. "Starships" by Nicky Minaj
This club favorite by Nicky Minaj is ideal for when you think you simply CAN'T get through that last mile on the treadmill or set of crunches. It will bring a smile to your face and make you forget the pain of whatever workout you're doing. The lyrics "Star ships were meant to fly/Hands up and touch the sky/Can't stop 'cause we're so high" will remind you that you're capable of whatever you put your mind to so you don't give up when your muscles are screaming.
4. "Applause" by Lady Gaga
Let's be honest: we don't always exercise just to make ourselves happy and in shape. Sometimes we want some recognition from others! This popular track by Lady Gaga will motivate you during your workout by making you think of all the Instagram likes your gym selfie will get. Not to mention that its fast tempo is perfect for hard-core cardio like spinning or HIIT! Just remember to not put too much focus on others' approval; after all, Mother Monster encourages us to love ourselves as we are because we were born this way!
5. "Titanium" by David Guetta ft. Sia
This 2011 hit has it all: electronic dance-y sound, inspirational lyrics, and Sia! Whether you've hit a plateau in your training or just had a bad day at work, this song can help get you back on your feet. Sing along in your head to "You shoot me down but I won't fall/I am titanium" and you'll feel physically and emotionally stronger than ever.
6. "Roar" by Katy Perry
Some days you need music to motivate you during your workout because you just don't feel good enough in some way. This inspiring track by Katy Perry is the perfect solution. With lyrics like "I got the eye of the tiger, a fighter/Dancing through the fire/'Cause I am the champion, and you're gonna hear me roar," it'll boost your self-esteem and make you feel like you can do anything. Play this one when you're trying to beat your personal best in a workout category.
7. "Push It" by Salt-N-Pepa
With such a catchy rhythm, it's practically impossible to be still when this song is playing. If you want motivation to be your best and not quit during your workout, this track works wonders. The duo tells you to "push it" as hard as you can! This song is great for the slump you feel in the middle of your workout because it encourages you to "push" through until the end.
8. "Pump Up The Jam" by Technotronic
This 90s favorite can work to motivate you during your workout or inspire you before you even walk into the gym. The steady beat can help you stay on pace during a run, but this song is also fun for dancing off those calories in your bedroom. Turn this one up to full volume like the name suggests and you'll be done with your workout before you know it!
9. "Hey Ya!" by Outkast
Take it back to 2003 with this school dance staple.  It's super catchy and the rhythm is unpredictable at times, making it perfect for switching up your pace when running to keep your body guessing. Plus the famous line "Shake it like a Polaroid picture" is not only iconic, it'll have you shaking your booty on the elliptical. Play this one towards the end of your workout for an energy boost.
10. "Pop" by N*SYNC
This fast, dance-y tune always ups my motivation levels, no matter where I am in my workout. There's just something about Justin Timberlake that makes me want to push myself (wink wink). Don't be surprised if you find yourself singing along. Even if you are out of breath when this childhood favorite comes through your headphones. If all else fails, you can always just dance along to the boys' choreography for a good workout!
The next time you're looking for the perfect playlist to motivate you during your workout, play this one. I love listening to them because they bring back fun memories of dancing with my friends. So I can't help but smile when I hear each one. Whether you are sweating it out on a run, strengthening and lengthening during Pilates, or just doing some good old-fashioned push-ups, great music will pump you up to do your best. These 10 songs will have you singing and grooving so much you'll hardly notice you're working out!
References:
Refresh Your Playlist With the 100 Ultimate Cardio Tunes