Lady Lennia blog
Mina Khan: "As I write this, I'm hopeful for a better tomorrow."
By
|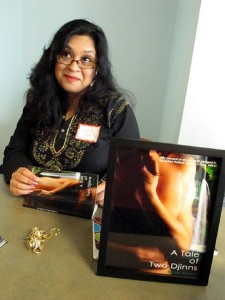 My dad was a sailor and I spent my early childhood on a ship, being homeschooled by my mother. I still remember her teaching me the English and Bengali alphabet. She made a game of it – "A" was a mountain with a line, "T" was a man with an invisible head. I had fun learning. Today, words are an integral part of my identity and writing is like breathing to me.
My voice comes out in my writing. My debut story, "The Djinn's Dilemma," is about a genie assassin who falls for his target. But it is also an exploration of identity and acceptance: accepting others for who they are and accepting yourself for who you are.
The more I write, the more I know myself, so I chose to write this blog post. This is a hard blog post to write and hard to read over. But it needs writing.
I write when I'm heartsick and bone tired. Women are being brutally attacked, at times killed, vilified all over the world – from Syria to Steubenville. We are mothers, wives, lovers, sisters, daughters – yet those who violate us don't even consider us human. For if they did, they could never inflict such pain and violation on us.
Violence against women is not a new thing, but it is wrong and should not exist. Silence in the face of injustice can hurt and it's important to add your voice to what is right. We have different voices and different ways to express ourselves.
I write to make a difference. Being a woman and growing up in Bangladesh, a Third World country, the marginalization of women was a fact that I encountered daily. Not just the overt in-your-face marginalization, but also the more dangerous insidious marginalization that comes cloaked in "for her own good." Women's issues have always been important to me and they spilled into my novella A Tale of Two Djinns.

The hero and heroine come from two feuding kingdoms. As I wrote about the two societies, I ended up exploring the role of women in both and sharing my thoughts on what it means to be a woman.
Once the book was published, I chose to donate fifty percent of the proceeds to UNICEF for education. Because education gives power to the powerless and opens doors to opportunities. Together my readers and I are making a steady and positive difference. As I write this, I'm hopeful for a better tomorrow.
Thank you Jasmine and Miss Millennia Magazine for giving me this opportunity to share. Thank you for reading.
Check out Mina's Website! Stories by Mina Khan